Charming holiday homes
Cottages equipped with charm and northern culture, with a view of the lake from all windows, during all seasons
Charming holiday cottages that bring back memories of times gone by. All this in. a scenic setting near the lake with the majestic Falkberget mountain as a backdrop. Accommodation in Norrskensudden is a self-catering option. There are boats and canoes available for rent on site.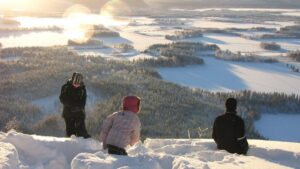 Gästhuset
Gästhuset has six beds in three rooms. On the ground floor there is a lovely, spacious country kitchen equipped with an electric stove, fridge/freezer and dishwasher. On the same floor there is a double bedroom and a bathroom with shower. Upstairs there is a hallway, bedrooms and a family room. In total there are six beds available.
Bagarstugen
Bagarstugan has a large, newly renovated kitchen with cooker, fridge/freezer and a cosy fireplace to keep you warm. On the ground floor, apart from the kitchen, there is a newly renovated bathroom with a shower and two sleeping alcoves with four beds in total. Upstairs there is a large sleeping loft with a double bed, table and chairs. The sleeping loft can be used from May to September.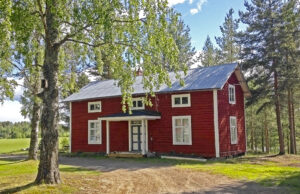 Phone number:
070-172 71 99
Email:
sara@norrskensudden.se
Website:
http://www.norrskensudden.se/